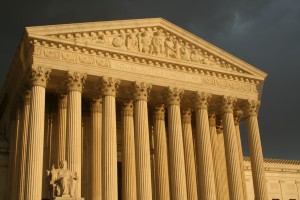 Photo by me.
Arthur Bright has a nice post at Citizen Media Law Blog on the good news that the Senate Judiciary Committee voted 11 to 7 to require the U.S. Supreme Court to allow television cameras into hearings.
The bill that has been approved in committee, S.B. 1945, provides:
The Supreme Court shall permit television coverage of all open sessions of the Court unless the Court decides, by a vote of the majority of justices, that allowing such coverage in a particular case would constitute a violation of the due process rights of 1 or more of the parties before the Court.
We'll see if the bill becomes law. And if it does, the U.S. Supreme Court could always, of course, strike it down (making for a fun new case for your Federal Courts textbook). But it's a great step in the right direction for open government and media freedom.
My concern going forward, if cameras are allowed into SCOTUS, is that everyone will have equal access to the footage. If the networks put their own cameras in and produce copyrighted footage, that won't be a boon to bloggers and citizen journalists. The best implementation would be for the court to do its own television feed, which, as a federal government work, would be copyright-free.
And, of course, there'd be fewer cords to trip over …