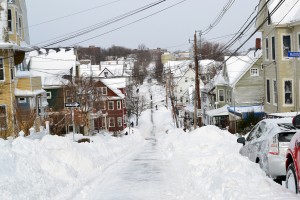 Snow piled up along Somerville Street in Somerville, Mass. on February 9, 2013, the day after a massive snowstorm prompted state officials to issue a state-wide driving ban. (Photo by Darcy, via Flickr)
The blizzard travel ban in Massachusetts I blogged about was lifted yesterday after 24 hours, according to announcement on the front page state's emergency management agency.
If you are a blogger or citizen journalist who was cited, arrested or hassled by police in Massachusetts or elsewhere during the big blizzard this weekend, please let me know – I'd love to blog about what happened to you.
If you are an attorney representing a citizen journalist or blogger who is facing a fine or jail time for having driven during a weather-induced travel ban which had an exception for news media, I'd love to talk to you as well.
There was no official press release from the governor's office providing official notice of the lifting of the ban, nor, apparently, is there a superseding executive order.
About the photo: "Somerville Street in Blizzard Nemo" by MoreLife81 / Darcy, licensed under Creative Commons Attribution 2.0 Generic (CC BY 2.0) license.