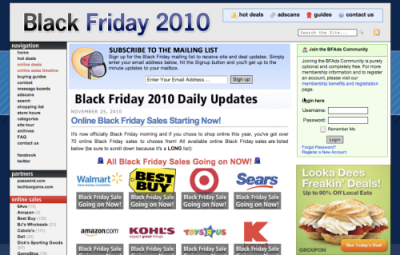 A blog dedicated to reporting news of Black Friday sales, bfads.net, has been publishing leaked copies of sale circulars long before Thanksgiving. Numerous stores have sent cease-and-desist letters (or, at least, please-stop letters). A great website that archives C&D letters, Chilling Effects, has published examples:
The Michael's letter is fine – it doesn't make any legal arguments. It simply asks bfads.net to take the letter down and requests that bfads.net rat out their snitch. Hmm, okay. I guess it never hurts to ask.
The Belk letter has a more legalish tone, but it also declines to make any legal arguments.
Now, the JCPenney letter does make a legal argument. But it's a spurious one. The letter refers to what bfads.net has done as "an infringement of our intellectual property[.]"
Huh?
The problem with that is that there's no such cause of action. The letter writer should pick an actual law. Is it copyright infringement? Trademark infringement? Is it a misappropriation of a trade secret? If someone is accusing you of an infringement of intellectual property, take a breath and relax a little. That's a sure sign that what you have done is either (1) perfectly lawful, or (2) is, as luck would have it, legally actionable, but only in someway that the letter writer doesn't actually understand.
Now, the JCPenney letter does mention that the ad is "copyrighted." But is publishing a copyrighted ad on bfads.net actionable as copyright infringement? In my opinion, it's not clear that it is. Notice that the letter doesn't actually make a claim of copyright infringement.
The JCPenney letter does, however, contain a practical argument: The ad is not the final version and therefore could provide bfads.net readers with inaccurate information. That seems persuasive. Sometimes an argument that appeals to the reader's sense of propriety and judgment is better than a legal threat.
Now here's a letter from 2007, from Macy's, that advances some actual theories of legal liability:
This letter says that what bfads.net has released is "protected by copyright, trade secret, and other federal and state laws."
Right away you should see that "other federal and state laws" is catch-all bluster to cover up ignorance, bluff, or legal-research laziness. So let's skip to copyright.
Copyright does cover a sale circular. That's true. But Macy's only has a good copyright claim to the extent that what bfads.net is doing is not fair use. And since bfads.net's usage could not have any conceivable effect on the market for Macy's circulars (in fact, Macy's isn't selling its circulars at all), there's at least a non-laughable argument for fair use. In fact, if you built it out, there would be a solid fair-use argument here. If another store were copying Macy's ads but just changing the numbers and words, there would be a less persuasive fair-use argument. But that's not what happened.
What about trade secret? Well, in my view – and I've studied this kind of thing – advance information about a sale may constitute confidential information, but not a trade secret.
A trade secret is a specific kind of business confidence, and it's not the kind involved here. The distinction between a trade secret and a regular business confidence is the subject of a presentation I gave at a symposium earlier this year at Hamline Law School and an upcoming article of mine [now published] in the Hamline Law Review. Unfortunately, courts frequently misconstrue trade-secret law, so there's always a chance that a judge would (erroneously) hold bfads.net liable for trade-secret misappropriation. But if a judge interprets the law correctly, and finds that Macy's sale information is not a trade secret, then bfads.net can't get in trouble for publishing it (though a Macy's employee could be in trouble for leaking it).