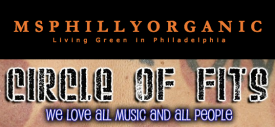 Very interesting article: Valerie Rubinsky in the Philadelphia City Paper: Pay Up: Got a blog that makes no money? The city wants $300, thank you very much.
Philly is not taxing all blogs – just blogs that are set up to make money – any money, no matter how small. If a blog is designed to make a profit, even if it doesn't, the City of Brotherly Love requires a business privilege license (a $300 one-time fee or $50 per year) plus taxes on the profits.
So that means Philadelphia is after Sean Barry's Circle of Fits, a music blog hosted on Blogspot, which has made $11 over two years, according to the article.
Also getting billed is MS Philly Organic, a blog by Marilyn Bess that, combined with earnings from some posts for eHow, has brought in about $50 over three years.
Rubinsky reports that City Council members Bill Green and Maria Quinones-Sanchez have proposed reforming the law to help make the city a more accommodating place for small businesses. But while the reform would exempt the first $100K in profits, nano-sized online "businesses," such as ad-hosting blogs, would still have to pay $50 per year or $300 upfront for a license. Some reform.
Apparently the tax-collector letters went out to bloggers who did the right thing and reported tiny-sized revenues on their income tax returns.
I'd like to hear a tax attorney weigh in on whether there is serious argument that these bloggers are not businesses engaged in an activity for profit since the amount of money they are earning is trivial and undoubtedly doesn't cover their expenses. But I'm not a tax attorney, so I'll have to leave that to someone else.
My advice for most bloggers is this: Dump the ads. Why bother putting ads on your blog unless it is going to make you substantial amounts of money? Ads clutter up blogs. They look terrible, and they are often for products that are either ridiculous (like herbal cures) or kindov depressing (like life insurance). That detracts from a user's experience. And if ads cause you to have legal trouble – and even trying to figure out if you have legal trouble is a kind of legal trouble – then you should flush them down the drain.
In fact, if you are really in it for profit, then you are probably better off doing whatever it takes to build readership in the near-term – and in my opinion, that means turning off the ads. If and when your readership ever gets big enough that ads would bring in real money, you can start providing advertising space at that point. Take a cue from big start-up ventures. None of them try to make money in the early years. For a VC-funded start-up, making money at the beginning usually means that you aren't trying hard enough to grow and gain market share.
More: Lyrissa Lidsky on PrawfsBlawg: (Business) License to Blog (with good discussion in the comments)
(Ha'p: Media Law Prof Blog)