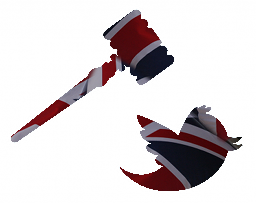 Lord Robert Alistair McAlpine was libeled by a tweet from Sally Bercow, the wife of the Speaker of the House of Commons, according to a May 24, 2013 decision of UK's High Court of Justice.
With a question of damages still pending, the parties terminated the litigation with a settlement on undisclosed terms.
Eric P. Robinson blogged that the case "shows — if anyone still had doubts — that tweets can indeed be libelous."
"In short — appropriate for Twitter — a libel is a libel, no matter how few characters it contains," Robinson concluded.
A BBC report in 2012 about alleged sexual abuse in a Welsh foster-care home in the 1970s and 80s communicated an allegation by a victim that one of the abusers was a leading Tory politician, but no particular person was named. Social media speculation following the BBC report then centered around Lord McAlpine.
Then came the libelous tweet from Bercow:
Why is Lord McAlpine trending? *Innocent face*
It turns out Lord McAlpine was not an abuser. The ensuing scandal led to the resignation of the head of the BBC.
It appears Sally Bercow abandoned Twitter.
The case is a good example of how defamation can happen indirectly, and by implication. It also provides a good point of contrast with American law – UK law on libel is much stricter and not subject to the strong protections that we have under the First Amendment on this side of the Pond.
For a full unpacking of the facts and law, read Robinson's thorough post on Blog Law Online.