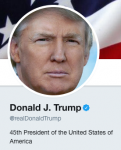 The Knight First Amendment Institute at Columbia University, along with a number of individuals, has sued President Donald Trump in the federal court for blocking users from his Twitter account, @realDonaldTrump. The organization said in a statement, "President Trump and his communications team are violating the First Amendment by blocking individuals from the Twitter account because they criticized the president or his policies."
The Knight Institute points out that Trump advisors have said @realDonaldTrump tweets are "official statements," and the organization argues that the president's Twitter account is a "public forum," as that term is understood in First Amendment law.
The complaint [pdf] filed in the Southern District of New York alleges:
President Trump's Twitter account, @realDonaldTrump, has become an important source of news and information about the government, and an important public forum for speech by, to, and about the President. In an effort to suppress dissent in this forum, Defendants have excluded — "blocked" — Twitter users who have criticized the President or his policies. This practice is unconstitutional, and this suit seeks to end it.
The lawsuit seems to me to have clear merit. Consider what it means to be blocked on Twitter. According to Twitter support:
"Blocked accounts cannot:

Follow you
View your Tweets when logged in on Twitter (unless they report you, and your Tweets mention them)
Find your Tweets in search when logged in on Twitter
Send Direct Messages to you
View your following or followers lists, likes or lists when logged in on Twitter
View a Moment you've created when logged in on Twitter
Add your Twitter account to their lists
Tag you in a photo"
Of course, it is possible to see President Trump's tweets even after being blocked by logging out of Twitter. But as the list above makes clear, that's far from a complete work around for free-speech participation. Also, interestingly, Twitter support says blocked accounts don't receive a notification letting them know they've been blocked.
The Knight Institute is new. It was started last year by Columbia University and the John S. and James L. Knight Foundation. It's aim is "to defend and strengthen the freedoms of speech and the press in the digital age through strategic litigation, research, and public education."
I expect the Knight Institute to prevail, but it is disappointing a lawsuit is necessary and that this could not have been solved by the White House exercising self-restraint. As is so commonly the case, those who so enthusiastically embrace their own expressive freedoms are often quick to dismiss or trammel others'.