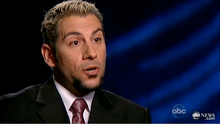 A student of mine pointed out to me that ABC's 20/20 news magazine did a piece on Sarah Jones, the Cincinnati Bengal cheerleader and Kentucky high school teacher who was wildly defamed on TheDirty.com and sued. That case is still unresolved. But the 20/20 piece is worth watching for no other reason than to be able to see Nik Richie answering questions.
If you are already happily ignorant of TheDirty.com, you should know that it's a blog that posts photos of random people – often unknown, average people – and then attributes to them various sexual acts, sexually transmitted diseases, and crimes. It also commonly includes withering exegeses on these persons' physical traits laced with profane invective.
The following, posted under a snapshot of a smiling college-aged girl, who was hugging a friend, is typical:
Nik, this fat waste of space is _____ ______. We went to high school together. She has always been thick… not in a good way. Her mom is nice but f*cking ugly. You can tell _____ will be just like her mom when she grows up… lol poor _____. She just posted on fb that some girls are so sad… yet she is the sad one to me. She is the BIGGEST SL*T I KNOW. When i say Big I mean physically BIG lol.
("fb" means "Facebook" and "lol" means "laughing out loud." The omissions indicated by underscores are mine.)
Nik Richie is the guy who makes all this possible. In the 20/20 interview, you can see that Richie is not only devoid of of conscience, but he is also megalomaniacal. In the interview Richie compares himself to – wait, are you sitting down? – Mark Zuckerberg.
You could sell Starbucks, and it's the same, it's the same thing. If it's so terrible, why am I so demanded? Why am I a blogstar, as I call it? I'm pretty much a rockstar of the internet generation. … Look at Mark Zuckerberg. It's the new wave of cool, hip, new celebrities. Internet celebrity. I'm in that realm with the Perez Hiltons, the Mark Zuckerbergs. You don't have to be a computer nerd to be cool.
Whoa. First of all, Perez Hilton built up his following by constructing a personality people found compelling. And Mark Zuckerberg? Mark Zuckerberg not a "computer nerd"? I've made fun of Facebook, but let's face it, Mark Zuckerberg is a serious geek. Zuckerberg has real geek chops – mathmatics, algorithms, coding, stuff like that. I take it, however, from his comments, that Richie doesn't. That means that the only thing Richie has really brought to the table, that gives him his salient entrepreneurial advantage, is sociopathy.
In other words, Richie's success in getting visitors to his site comes not from what Richie has – like far-sightedness, business acumen, or facility with technology (which Richie does not appear to have), it's what Richie lacks – conscience.
To be proud of yourself under such circumstances is bizarre.
Hmmm. This reminds me of someone else who thinks they are an innovator. And I know you know who I'm talking about: Steve Gibson, founder of Righthaven. It's the same fallacy I tried to explain in a post titled "Righthaven's Innovation? Stooping Lower":
Righthaven's business plan is based around taking advantage of the law to do something the law itself never contemplated. I'll give them this: Righthaven's entrepreneurial angle is unique. But there's nothing clever about it. Righthaven and its associated newspapers are on the cutting edge because they have stooped lower than anyone else in the news business has been willing to go. That's nothing to be proud of.
That fits Nik Richie to T, except that TheDirty.com is not unique in the same way Righthaven is. And Steve Gibson is actually a smart guy. I see no indication of that with Richie.