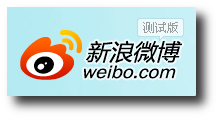 Sina Weibo – China's Twitter-like microblogging site – has created a new point system to extend Chinese government influence over what is and is not deemed "true." New guidelines forbid communicating content considered "untrue," or which is deemed to "harm national unity," or "destroy societal stability."
This sort of speech has long been illegal in China. But with Sina Weibo's burgeoning 300 million users, website policy may have more reach than the criminal law.
When creating an account on the site, which is also known as Weibo.com, a user gets 80 points of credibility, or 100 points if the user plugs in a government-assigned ID number to create the account and links to a cellphone. Then, whenever the Sina Weibo user communicates something deemed "untrue," points are deducted. The more people to whom the "falsehood" is communicated, the more points are deducted. For instance, spreading a "falsehood" to more than a thousand other users results in a deduction of 10 points and a 15-day account suspension. Users can gain points by staying in compliance with government censorship policies. Once the points fall below 60, the user is deemed "low credit." Once the points get to zero, the account is closed.
Sina Weibo has been a key means of the dissemination of information about disasters and government scandals that the Chinese government has tried to play down, deny, or bury. This new point system will presumably cause Weibo users to self-censor to avoid account closure, helping to allow the Chinese government to bring social media to heel.
More: