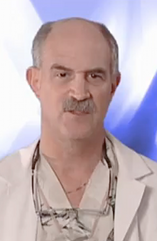 Oregon plastic surgeon Jerry Darm (Image: Darm, via YouTube)
Blogger Tiffany Craig (Criminally Vulgar, @tcraighenry) has reported that the lawsuit between her and plastic surgeon Jerry Darm has been settled.
This happened back in October, but you're just now finding out about it on Blog Law Blog, where, with paywall-less blogging, you get what you pay for.
Darm sued for defamation, but then dismissed the suit. It looks like Darm just bailed after he realized that all that was likely to happen was that he would lose and get stuck with legal fees for both sides, thanks to Oregon's anti-SLAPP law. The complained-of tweet and blog post are staying up.
The suit appears to have arisen out of this blog post, in which Craig embedded a YouTube video, since removed, of an uploaded Dr. Darm television commercial. Underneath, Craig wrote:
Seen that around? Sure you have. If you watch television in Portland Dr Darm is ubiquitous. Especially on those local channels that show endless reruns of Two and a Half Men. He wants to fix you up good and spend thousands on cosmetic procedures that will get funneled straight into his Lake Oswego home.

What he should have added with his Results May Vary disclaimer is Dr. Darm Handed Over His Medical License Due To Disciplinary Action. …

EFFECTIVE 10/18/01 RECEIVED A LETTER OF REPRIMAND FROM OREGON, REQUIRED TO HAVE A CHAPERONE WHEN EXAMINING FEMALE ADULTS, AND ADDITIONAL CONTINUING MEDICAL EDUCATION COURSES. EFFECTIVE 01/08/09 STIPULATED ORDER OF 10/18/01 IS TERMINATED.
That's right, he was censured by the state because he was examining female patients without a chaperone. If that's not bad enough? Apparently needed just a teensy bit more education about how to respect the boundaries of his patients.

Oh and California just decided that he shouldn't be licensed at all. If he tries to get licensed in California, he has to reapply.

And maybe you're thinking, "so what if he examined a female patient without a chaperone? How is that a big deal." You should really read the judgement which says:

"Licensee examined Patient A on August 3, 2000 and September 21, 2000 to evaluate the treatment results. Patient A repeatedly expressed concern about some "spider" veins on her legs, but that she could not pay for additional treatment. Licensee informed Patient A that he would provide her with free treatment at his clinic closing time. On or about November 16, 2000 at about 9:30 PM, Licensee used a laser to treat Patient A's condition on her legs. At the conclusion of the treatment, as she was reclined on her back, Licensee leaned over Patient A and made intimate physical contact with her and inferred that would be his payment."

That's right, he tried to get a woman to sleep with him in exchange for cosmetic surgery.
I'm don't think Results May Vary is quite enough to warn people off being treated by Dr. Darm.
Assuming the quotes are accurate, how could this be defamatory?
A report on the settlement by Alex Zielinski in the alternative weekly newspaper, the Portland Mercury, implies it was this:
Craig … didn't note that Darm's license is now renewed in Oregon.
So what? If the reasonable implication of Craig's post was that Darm wasn't licensed in Oregon, then, true, that could be actionable. But when I read Craig's post, I certainly do not come away with the idea that Darm is unlicensed in Oregon. Quite the opposite. Craig's post seems to imply that he still is licensed in Oregon.
A better candidate for the allegedly actionable content is this:
That's right, he tried to get a woman to sleep with him in exchange for cosmetic surgery.
Indeed, the quoted material Craig uses does not support the literal truth of that statement. Making "intimate physical contact" with a patient and "inferr[ing] that would be his payment" does not literally mean that Darm tried to get the patient to sleep with him. But American defamation law is tolerant of this kind of poetic license. An instructive case on this point is another litigation I blogged about out of the District of Oregon in 2011: Obsidian Finance Group v. Cox. (What is up with the onslaught of Oregon defamation-by-blog cases?) According to heritage Portland newspaper The Oregonian the papers filed by Craig's attrorney, Linda Williams, argued that "the gist" of the blog post was true and that the statements, in context, were opinions based on verifiable facts.
More: