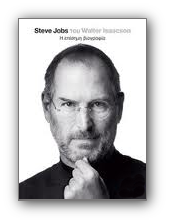 I recently read Walter Isaacson's biography of Steve Jobs. I thought the book was not all that well written. Pretty clearly, it was rushed. If you were the publisher, and Steve Jobs quits his job and then dies, what would you do? Install an espresso van outside of Isaacson's house? Blast an airhorn every time he starts to nod off? Pretty much. And the book shows it.
That said, it was an enjoyable read. It ends up being a recent history of Silicon Valley, which is fabulous subject matter. And it illuminates the great ideological battles that rage in the tech world today: functionality vs. ease-of-use, open vs. closed, innovate vs. intimidate.
The most interesting thing about the book is that Steve Jobs wanted it, and even picked out Isaacson to write it, and cooperated wholeheartedly in it. Yet the book paints Jobs as a chronic a__hole. I mean, it is hard to like Jobs after you get to know him in these pages. I always rooted for Apple against Microsoft – back when that was a thing. But this book made me like Steve Jobs less and caused me to find all kinds of admiration for Bill Gates.
After learning more about him, I find myself deeply ambivalent about Steve Jobs. He brought the power of computing to the masses. He was a wonderful product designer. But he was not someone who upheld the cause of freedom in computing. And if you are a citizen blogger, few things are more important than freedom in computing.
Jobs discussed blogging specifically when he spoke to newspaper tycoon Rupert Murdoch and his son James about the potential of delivering news content over the iPad. He told them:
We can't depend on bloggers for our news. We need real reporting and editorial oversight more than ever. So I'd love to find a way to help people create digital products where they actually can make money.
I too want a journalism ecosystem with professional reporters. But appifying the web has the potential to block out blogs. And the thought of that makes me sad.