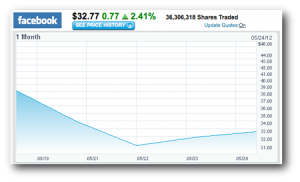 Facebook's falling stock. (Image: Nasdaq)
Facebook and its investment bankers are being sued over an IPO that didn't "pop" the way so many investors were hoping. After debuting at an issue price of $38, Facebook's stock has fallen to a low of $30.94. As I write this, it's trading at a little over $32.
On Friday, I did a post about the law of IPOs. I talked about how much paperwork you have to file with the SEC in order to do a public offering, including a long, boring document called an S-1. So tedious, almost no one will read it. Almost. As I said:
You know who reads S-1s? Other lawyers. In particular, litigators. Lawyers who are looking for some misstatement or some unmentioned fact that will serve as a basis for a lawsuit based on federal securities law. And then it's off to the courthouse!
Ahem. That didn't take long. According an Associated Press story published yesterday:
One suit, filed in U.S. District Court in New York, claims Facebook's IPO documents contained untrue statements and omitted important facts, such as a "severe reduction in revenue growth" that Facebook was experiencing at the time of the offering.
AnnaMaria Andriotis at SmartMoney adds an interesting footnote to this whole story about a trend of declining payouts in securities class-actions. That means the Facebook lawsuits may be just as disappointing to investors as the IPO.