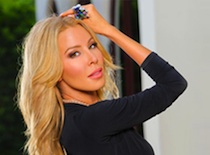 Reality-television star Lisa Hochstein is suing a blog commenter for saying Hochstein "was an escort who also did soft porn in Vegas."
Hochstein, who is an ensemble case member of Bravo's The Real Housewives of Miami, says the defendant, Jessica Lederman, has been to Hochstein's house. And that's apparently what spurred her to sue.
"This person is an acquaintance we've invited in our home and who has smiled in our faces. She had no shame in saying these horrible things," Hochstein told the Miami Herald. "The fact that she knows me and I've seen her in my home, well, it just sits the wrong way . I'm not going to go after every blogger and commenter out there. Trust me, I've been called way worse. I have thick skin as part of this whole show, but this really struck a chord."
The legal claims appear to be intentional infliction of emotional distress and defamation with a prayer for $15,000.
Hochstein says she didn't file the lawsuit for publicity reasons. Instead, it's personal.
"I didn't want it to get out of hand and I'm all for freedom of speech, but when you know someone personally and act like you're friendly with them and then go making an accusation like that, it's a big deal. What have I done to her?"
More:
Miami Herald: #RHOM's Lisa Hochstein speaks out on controversial blog commenter lawsuit
TMZ.com: 'REAL HOUSEWIVES' STAR Sues Internet Commenter Over Call Girl Remarks