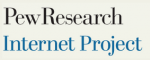 A new report from the Pew Research Internet Project focuses on technology and workers.
The first-listed key finding of the report is this: "Email and the internet are deemed the most important communications and information tools among online workers."
Two comments: First, I would say that the importance of the internet is not very surprising, particularly considering this survey finding was limited to "online workers." Second, it needs to be pointed out that e-mail is one application of the internet. So saying "E-mail and internet" is kind of like saying "driving automobiles to work and driving automobiles."
The report's summary says:
What is potentially surprising is that even in the face of constantly evolving forms of digital communication, potential threats like phishing, hacking and spam, and dire warnings about lost productivity and email overuse, email continues to be the main digital artery that workers believe is important to their jobs. Since taking hold a generation ago, email has not loosened its grip on the American workplace.
To me what's surprising is that after all these years we still don't have more effective ways to deal with spam.