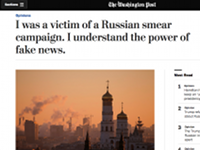 In this year of fake news, Anne Applebaum has written a column in the Washington Post, I was a victim of a Russian smear campaign. I understand the power of fake news.
I found the column particularly interesting for the way Applebaum dealt made-up facts about her that would be tedious to refute on a point-by-point basis. Here's a sample:
Mix truth and lies — my book contract and royalties were described as mysterious income from questionable sources — make ludicrous claims, pass on the lies to other Russian-backed websites, and then watch them pass it on again.