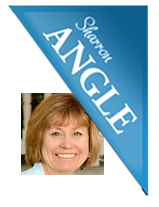 Steve Green of the Las Vegas Sun reports that the Las-Vegas Review Journal, via its plaintiff stand-in, Righthaven, has sued the Nevada Republican nominee for U.S. Senate, Sharron Angle, for reproducing material from LVRJ newspaper stories on her website. Angle is running against Senate Majority Leader Harry Reid.
The lawsuit seeks $150,000 in damages plus the surrendering of the candidate's domain name, sharronangle.com.
This shows you how far Righthaven and the Las Vegas Review-Journal have strayed from ordinary, civil behavior. This is a newspaper we are talking about, suing a candidate for office. And not just that, but suing that candidate because of the content of her communications to the public.
If Angle is forced to give up her domain name and cough up $150K in damages, that could easily be the difference in a closely contested election. (And apparently, the race is currently close.)
What happened to reporting on the story, not becoming part of it?
There is some indication that the Review-Journal, which previously used Righthaven to file a lawsuit against the Nevada Democratic Party, was bowing to pressure to be more non-partisan in its carpet-bombing litigation activities. Steve Friess, a blogger and columnist for a rival media outlet, the Las Vegas Weekly, used a series of screenshots on his blog to document Angle's copious borrowing, egging the Review-Journal on. Friess doubled the dare by calling R-J publisher Sherman R. Frederick and chief editor Thomas Mitchell "full-throated Sharron Angle supporters and Ahab-like Harry Reid haters."
"Righthaven must sue," Friess wrote. "It took effort to find the cat blogger, but this one was on a major candidate's site, there in plain sight. If they don't sue Angle, they provide dozens of infringers with a clear example of the company's inconsistency in defending its copyright."
So now they've sued.
But in my view, filing the complaint really doesn't prove much. The real question is how aggressively will Righthaven pursue the case?
The plaintiff-side lawyering in this case could actually make a big difference in how the Senate race plays out. As a tea-party candidate coming from outside the Republican mainstream, running against a powerful incumbent, Angle is already at a disadvantage in terms of cash and political allies. That makes her website and what money she has all that much more important to her. The attorneys fees in defending against Righthaven could significantly affect her ability to buy television ad time and otherwise get her message out. And during campaign season, every day and every dollar counts.
That means that Righthaven/LVRJ has much more leverage in this litigation than they do in most of their lawsuits, which have been settling for pennies-on-the-dollar nuisance-value amounts. Will the Review-Journal and Righthaven pull punches and sit on the complaint without turning up the heat in court? Or will they move things along procedurally and use their leverage to demand a big payoff?
Here are some more questions: Is it fair for Righthaven/LVRJ to use the leverage that exists because of the tempo of the campaign? Is it fair for them not to?
This is a real mess. From the perspective of integrity and the public trust, I think this is a very sorry position for a newspaper to be in. The Review-Journal never should have involved itself in the Righthaven scheme. I wonder if that is dawning on them now.
Tags: Angle, campaign, Democrat, domain name, election, elections, leverage, lvrj, politics, Republican, Righthaven, Senate, Sharron Angle