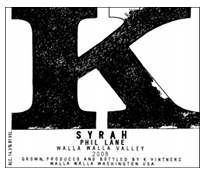 Winemaker Charles Smith and K Vintners LLC has filed a libel suit against anonymous commenters to a post on wine blog The Gray Market Report. The post that pulled in the allegedly defamatory comments is Charles Smith is a wine cartoon. Really.
Taylor Eason has blogged about the lawsuit at wineloverspage.com.
The Gray Market Report was not sued, nor the blogger W. Blake Gray, nor Google, the host via Blogger. Instead, it's a suit targeting John Does 1-10. Google has been served with a subpoena to turn over identifying information.
Gray Market Report has published the complaint and some details in a post headlined Attention readers: Charles Smith may be suing you.
The complained of comments accuse Charles Smith of being a "promoter" and "marketing-whiz" and not the winemaking brains in the operation. There's also accusations of verbal harassment of employees.
The statements are good ones for exploring the issue of fact/opinion dichotomy in libel law. They are all somewhat close to the line, and you can bet it will be an issue as to whether the statements are factual assertions capable of defamatory meaning or unactionable expressions of opinion.
Tags: blogger, charles smith, Google, k vintners, washington state, wine