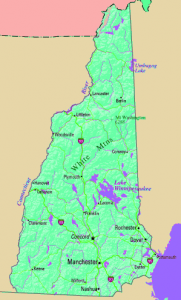 Here's an update on the crusade of left-leaning New Hampshire blogger Christopher King to be able to attend campaign events of Kelly Ayotte, Republican for U.S. Senate.
The Nashua Telegraph reports today that King lost his pre-election request for a federal injunction that would have permitted him entry to Ayotte's election-day party.
The party went on without him, and it turned out to be a victory party. The Sarah-Palin-endorsed Ayotte beat Democrat Paul Hodes. That keeps the seat – now held by retiring Republican Judd Gregg – in the column for the GOP.
In recent weeks King was bounced out of a Republican fundraiser by the Nashua police – at the organizers' request – and was barred from attending Ayotte campaign events.
Despite losing the injunction, King is committed to pursuing the case and its crop of constitutional questions. As the Nashua Telegraph explains:
Those issues involve whether a private event that aggressively seeks media coverage can cherry pick which reporters attend and which don't.
It is also about whether bloggers – including sharp-tongued partisans like King – will receive the same graces of First Amendment shed on mainstream journalists.
This is a case to watch.
Tags: chris king, christopher king, gop, kelly ayotte, kingcast, New England, new hampshire, republicans