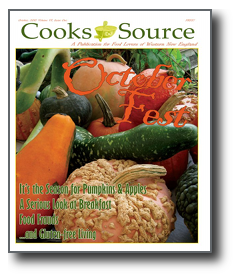 Web-author and blogger Monica Gaudio did some freelance work for Cooks Source magazine – unwittingly.
While the Las Vegas Review Journal and Righthaven continue to be hotly indignant about bloggers reposting content from newspapers, the print trade is nabbing content from bloggers, and being kindof snotty about it.
Gaudio's write-up of apple tarts, which appeared on her online cookbook of medieval cooking, was reprinted on page 10 of Cooks Source's latest issue. Cooks Source never got – or even sought – permission.
Now unlike thugsters LVRJ and Righthaven, Gaudio was nice about it. Assuming the best of intentions, she let the editor know that the article was used without her permission, and she asked for an apology and a $130 donation to the Columbia School of Journalism.
What civility.
Astoundingly, this is the response she got from editor Judith Griggs. It's just a jaw dropper:
Yes Monica, I have been doing this for 3 decades, having been an editor at The Voice, Housitonic Home and Connecticut Woman Magazine. I do know about copyright laws. It was "my bad" indeed, and, as the magazine is put together in long sessions, tired eyes and minds somethings forget to do these things.
But honestly Monica, the web is considered "public domain" and you should be happy we just didn't "lift" your whole article and put someone else's name on it! It happens a lot, clearly more than you are aware of, especially on college campuses, and the workplace. If you took offence and are unhappy, I am sorry, but you as a professional should know that the article we used written by you was in very bad need of editing, and is much better now than was originally. Now it will work well for your portfolio. For that reason, I have a bit of a difficult time with your requests for monetary gain, albeit for such a fine (and very wealthy!) institution. We put some time into rewrites, you should compensate me! I never charge young writers for advice or rewriting poorly written pieces, and have many who write for me… ALWAYS for free!
Just so we are clear, despite Griggs's assertion that she knows about copyright law, the web is certainly not considered public domain. Well, maybe by Griggs, but not by the law. Not at all.
I think it was stellar of Gaudio to offer the $130 make-good. But now that she's been responded to with outright rudeness, I think she should up her figure. My thought is $5,000 for a retroactive license / settlement. That's a high-end payment for freelance work, and it's in the neighborhood of Righthaven settlements. So that seems like a good number to me. And Monica, keep that money for yourself. The one thing Griggs is probably right about is that CSJ is doing alright for itself. Not that even well-to-do institutions of higher learning don't deserve donations, but you oughtta feel free to hold on to anything that comes your way out of this.
In the meantime, Monica: Register that apple pie article with the Copyright Office! If your reference point is 14th Century cooking, copyright registration is even easier than apple pie.
If it's been less than three months since you published it, you are still in a position to file for registration and get eligible for attorney's fees and statutory damages. If too much time has passed, you can still threaten them with actual damages. There's also the possibility of  an injunction and an order of impoundment and destruction, which, while not really a problem for online publications that can change their content at will, is potentially more of a pain for print publications.
More: Lance Whitney on CNET: Lifting of blogger's story triggers online furor
Tags: apple pie, apple tarts, Cooks Source, Monica Gaudio, New England, public domain