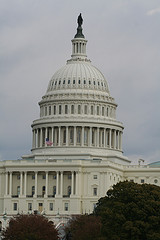 In response to the suicide of Rutgers University student Tyler Clementi, Rep. Rush Holt (D-NJ) and Sen. Frank Lautenberg (D-NJ) have introduced in Congress the Tyler Clementi Higher Education Anti-Harassment Act, H.R. 6425.
Clementi killed himself by jumping from the George Washington Bridge over the Hudson River after fellow students secretly videotaped an intimate encounter Clementi had with another man and uploaded it to the internet.
The bill specifically targets cyberbullying and thereby brings within its ambit blogging.
If enacted as law, H.R. 6425 would require higher-ed institutions, as a condition of participating in federal financial aid programs, to prohibit "harassment" of students by faculty, staff, and other students, whether that harassment is done on or off campus, and it would include harassment through the use of university computer networks.
Under the bill, "harassment" is defined as:
conduct, including acts of verbal, nonverbal, or physical aggression, intimidation, or hostility (including conduct that is undertaken in whole or in part, through the use of electronic messaging services, commercial mobile services, electronic communications, or other technology) that –

(I) is sufficiently severe, persistent, or pervasive so as to limit a student's ability to participate in or benefit from a program or activity at an institution of higher education, or to create a hostile or abusive educational environment at an institution of higher education; and

(II) is based on a student's actual or perceived — race; color; national origin; sex; disability; sexual orientation; gender identity; or religion.

[some signposting removed]
The bill would also establish a grant program for activities aimed at preventing harassment.
I'm not sure how much good this law would do. Will people sufficiently evil to do what was done to Tyler Clementi be deterred by a campus policy? It seems unlikely. But since you can't legislate tolerance and compassion, I suppose you do what you can do. If nothing else, a new federal law would be an expression that our society's self-ascribed moral character is incompatible with bullying young people on the basis of sexual orientation.
More: OpenCongress, NJ.com
Tags: congress, New Jersey, New York, Rutgers, Tyler Clementi