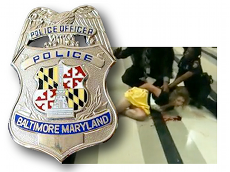 Badge of the Baltimore Police Department and still from YouTube video of police incident at 2010 Preakness Stakes
The Baltimore Sun reports that the American Civil Liberties Union is threatening to sue Baltimore police for illegally seizing a man's camera and deleting videos from it at the 2010 Preakness Stakes. This could be an important case for citizen journalists and bloggers.
The man, Christopher Sharp, was taking video with his cell phone of what appears to be the use of excessive force in the arrest of a woman, a friend of Sharp's, at the prestigious thoroughbred horse race. According to the ACLU press release:
[A]fter Sharp recorded the police beating, he was detained and harangued by police officers, who demanded that he surrender his cellphone as "evidence". Sharp politely declined, but police continued to demand that he give up his phone. Fearing arrest, he finally handed over the phone to an officer who assured him he would simply download the videos for evidentiary purposes, then return the phone to Sharp. Instead, police destroyed the beating videos and all other videos it contained – about two dozen in all – before returning the phone to Sharp.
Another video of the same event shows the bleeding woman pinned down on the floor of the Pimlico Race Course clubhouse as a crowd watches in a wide circle. One police officer can be heard asking "Why're they taking pictures?" and saying "Get him," directing a fellow police officers to the location of a camera-operating onlooker.
Also in that video, you can hear another police officer making false assertions about the law, saying that it is "illegal to record anybody's voice or anything else in the state of Maryland." In order for Maryland's wiretapping law to apply, there would have to be a reasonable expectation of privacy. It would be beyond absurd to argue that the police had a reasonable expectation of privacy while arresting a woman in the middle of huge crowd at one of the biggest sporting events of the year. Even if there had been no crowd, the law should, in my opinion, construe an implied lack of expectation of privacy in all encounters between police, in the course of their duites, and members of the public.
Putting aside the legal, constitutional, and political questions, there is the simple sad fact that Sharp lost a lot of video footage that was tremendously valuable to him.
"I'm heartbroken over the videos I lost of my son and I doing things together," said Sharp in the press release. "The videos were keepsakes of memories like his soccer and basketball games, times at the beach and the Howard County fair. It kills me that the police acted as if it was okay for them to could just wipe out some of my fondest memories. I used to trust police, but now I don't anymore, because of how wrongly the police acted here, and because it seemed like this was just routine procedure for them."
Tags: ACLU, Baltimore, Christopher Sharp, evidence, Maryland