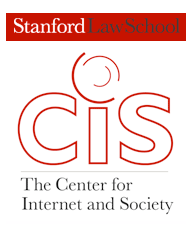 I'm very excited to say that I've joined Stanford Law School's Center for Internet and Society as an affiliate scholar – a non-residential position I'll hold as I serve on the faculty at the University of North Dakota School of Law.
My primary work through the center will be my Konomark project, which seeks to facilitate sharing of intellectual property on the internet. (You may have noticed that this blog is konomarked – as evidenced by the logo and sign on the right.) I'll also be blogging at CIS – something I'll do simultaneously with blogging here.
Through its Fair Use Project and its many other endeavors, Stanford CIS has done a lot in the service of freedom and democracy on the internet. They've been very good for bloggers and very good for cyberspace as a whole. I'm very honored to be invited on board.
Tags: Stanford CIS