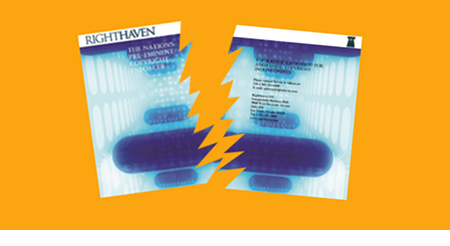 Lawsuit mill Righthaven has now suffered its biggest setback yet: MediaNews Group, publisher of the Denver Post has walked away from its year-long partnership.
As one of the biggest newspaper chains in the United States, MediaNews was Righthaven's prestigious business partner in a volume business of suing hapless bloggers for copyright infringement. Even as Righthaven has been dealt a string of blows in court, the partnership with MediaNews gave Righthaven real cred.
Now that's gone.
Steve Green of the Las Vegas Sun and Vegas Inc. explains what's happened and provides the context. Key to the story is that MediaNews Group's change of heart corresponds with a change in management. New CEO John Paton has different ideas about what MediaNews should be doing in the face of the digital transition – and it's not suing readers.
In his previous job as CEO of Journal Register Co., Paton tweeted about Righthaven, "Such a bad idea for newspapers. I'm speechless," Green relays. And Wired.com quotes Paton as saying that partnering with the Las-Vegas-based Righthaven "was a dumb idea from the start."
That leaves Righthaven standing alone except for its maiden business deal with the Las Vegas Review-Journal. (That relationship looks intact for now.)
So this answers the question of whether other big newspapers owned by MediaNews Group – such as The Detroit News, The San Jose Mercury News, and the Salt Lake City Tribune – would be joining hands with Righthaven. Happily, it ain't so.
It's a good day for newspapers, a good day for bloggers, and a good day for law.
Tags: John Paton, MediaNews Group