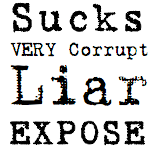 Following up on Obsidian Finance Group v. Cox, should we go ahead and Confront the ELEPHANT IN THE ROOM?
The case introduces an underappreciated strategy for sidestepping defamation liability. Call it the ALL CAPS libel defense.
If you look closely at the decision, the key behind Cox's victory seemed to be her wild use of ALL CAPS, Title Caps, and bold typeface, combined with a strong helping of over-the-top invective and continual references to forthcoming proof.
Take a look at this analysis from U.S. District Judge Marco A. Hernandez [pdf]:
Finally, the statements are not sufficiently factual to be susceptible of being proved true or false. Cox repeatedly poses her statements as questions or asserts that she will prove her accusations. For example, she asserts that "a Whole Lot" of the "Truth" is "Coming Soon," that she "intend[s] to Expose every Dirty Deed," that Padrick "WILL BE EXPOSED," that "YOU [meaning Padrick] will BE Indicted SOME TIME, someday," and that she "WILL PROVE IT ALL." Padrick Decl. at pp. 1-13. She tells the reader to "STAY TUNED," and she asks "Kevin Padrick, Guilty of Tax Fraud?" Id. She also states that Padrick is a "cold hearted evil asshole" and is a "Cruel, Evil Discriminating Liar." Ex. 1 to Padrick Decl.

Defendant's use of question marks and her references to proof that will allegedly occur in the future negate any tendency for her statements to be understood as provable assertions of fact. Her statements contain so little actual content that they do not assert, or imply, verifiable assertions of fact. They are, instead, statements of exaggerated subjective belief such that they cannot be proven true or false.

Considering all of the statements in the record under the totality of circumstances, the statements at issue are not actionable assertions of fact, but are constitutionally protected expressions of opinion. Plaintiffs' motion for summary judgment on the liability of the defamation claim is denied.
One way of thinking about this is that Cox's unconventional style underminded her own credibility to an extent that the court was loathe to treat her allegations seriously enough to make them the basis of a libel case. I'm sorry if that's harsh. (I know Ms. Cox will probably read this.) But that's how I interpret the judge's ruling.
So, I guess the lesson is that if you are going to defame someone, (1) put your foot on the gas, (2) put your pinky on the shift key, and (3) DON'T HOLD BACK!
Tags: Crystal Cox, Obsidian Finance, Oregon, rcfp