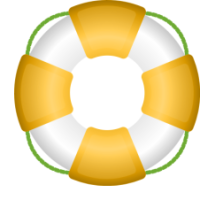 A person identifying himself as a friend of blogger Crystal Cox asked in a comment to yesterday's post where Ms. Cox could find legal counsel. That's a great question that a lot of folks have. And I am happy to say I have a number of places to suggest for any beleaguered blogger looking for a lawyer to throw them a lifeline:
The Berkman Center for Internet & Society has created, as one of its many projects, the Online Media Legal Network, a network of lawyers, law firms, and law clinics willing to represent qualifying media clients for free (pro bono) or at reduced rates. The list of members reveals a bunch of heavyweights, including Manhattan media-law powerhouse Debevoise & Plimpton. Not only have they represented the New York Times, but they even employed the author of Blog Law Blog as a summer associate back in the late 1990s! How's that for a claim to fame? Of course, there are a bunch of other stars on OMLN's roster as well. To get started in seeking representation through OMLN, read up on their process and requirements. They can't help everyone, but it can't hurt to ask.
There's also the 800-pound gorilla, the Electronic Frontier Foundation, the granddaddy of public-interest law firms for electronic media. The EFF explains on their website how they select clients and how to contact them about possible representation. If you can get the EFF to represent you, that's completely fansmashtic! But know ahead of time: Many will apply, few will qualify.
A more general source of information about getting represented can be found in the Citizen Media Law Project's guide to finding legal help. Information there will help you learn about looking for pro bono representation,  going pro se (representing yourself), or, if it comes to that, hiring a lawyer (as in, paying them money).
Of course, if your problem is the opposite – if you are looking for someone to sue you – then Blog Law Blog recommends, por supuesto, BLOGGING! Especially effective is blogging about people or organizations (1) who are well-off enough to hire a lawyer, and (2) who are not already the target of a torrent of criticism.
So, my friends, lawyer up, and BLOG ON!
Tags: Crystal Cox, legal representation, pro bono, pro se