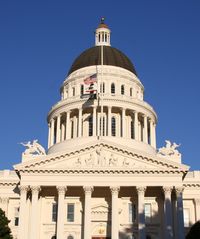 The California Capitol. (Photo: EEJ)
Well, this is terrifying.
Eric Goldman, in a new blog post, hypothesizes that California's newly enacted Reader Privacy Act could be read to impose statutory requirements on bloggers. The law requires "book services" to give notice to persons who are the target of a personal-information-seeking subpoena served on the book service. In other words, if someone throws a subpoena at an online book service in order to find out what books someone is reading, the book service has to first reach out to that someone before turning over the information.
So far, that doesn't sound too bad.
But where Professor Goldman gets alarmed … (Let me just pause to note that while I would feel comfortable calling Eric Goldman by his first name, if I start saying "Eric argues" or "where Eric gets alarmed" on this blog, people are going to think I'm talking about myself in the third person. And while I'm generally okay with people thinking I'm a bit eccentric, I don't want people thinking I've got the mindset of a marginal presidential candidate who is slowly losing touch with reality.)
So, anyway, as I was saying, where Professor Goldman gets alarmed is in looking carefully at who qualifies as a "book service" and who is therefore is obligated under the new law:
Let's look closely at who is required to comply with the law — recognizing that the statute has a private cause of action that will be enforced by a rapacious privacy plaintiffs' bar.
What?!? A "rapacious" plaintiffs' bar?!? In CALIFORNIA?!?!? I can't believe that. Anyway, as Goldman was saying …
[C]learly this covers Amazon and other online book retailers. But in this day and age, what is a "book" and, more importantly, what isn't? The statute defines a book as:

paginated or similarly organized content in printed, audio, electronic, or other format, including fiction, nonfiction, academic, or other works of the type normally published in a volume or finite number of volumes, excluding serial publications such as a magazine or newspaper

… [W]hat about blogs? Are they "book services"? Before you discount the latter, consider that many blogs are, in fact, paginated (at least in the URL–see Blog Law Blog as an example).
Isn't that awesome? I did a nested double-blockquote! Who knew you could even do that? Hey, wait a minute! That's ME he's talking about! AIYEEEAAHHH?!?!? There's nothing like waking up in the morning and finding out that the California legislature has just done something that might expose you to private plaintiffs' actions.
But wait, I can actually breathe a sigh of relief, because I'm pretty confident I don't count as a "commercial entity" under the law. And since I'm not a commercial entity, the law's requirements don't apply to me.
But what about you, dear reader? Does your blog have advertisements on it? Even AdSense or Amazon affiliate links could, in Goldman's view, possibly expose a blogger to "commercial entity" status.
And that's just one more reason not to have ads on your site. As I said in regards to the question of whether having an ad-bearing blog imposes tax liability (in a post that my WordPress installation faithlessly labeled "page 1075"):
My advice for most bloggers is this: Dump the ads. Why bother putting ads on your blog unless it is going to make you substantial amounts of money? Ads clutter up blogs. They look terrible, and they are often for products that are either ridiculous (like herbal cures) or kindov depressing (like life insurance). That detracts from a user's experience. And if ads cause you to have legal trouble – and even trying to figure out if you have legal trouble is a kind of legal trouble – then you should flush them down the drain.
I'll have more to say on California's Reader Privacy Act in posts this week. I'll weigh in on the debate between Paul Alan Levy of Public Citizen and Goldman about whether an individual can be an "entity' under the new act. I'll also explain my biggest problem with the new law.