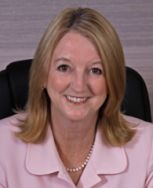 Ex-Aurora Mayor Phyllis Morris. (Image: Phyllis Morris Campaign, used without permission.)
Back in January, I blogged about the taxpayer-funded litigation campaign waged by the mayor of Aurora, Ontario. She got the town council to pony up funds to go after the Aurora Citizen blog and anonymous critics voicing opposition to Morris via the blog's comments. As it turns out, the lawsuit didn't help Morris's political fortunes. Morris suffered a landslide loss in her bid for re-election. And then, the town council voted to de-fund her lawsuit – something that probably never should have been funded on the taxpayer dime in the first place. This summer, a judge rebuffed Morris's attempt to get a court order to unmask the three anonymous contributors who were, apparently, the authors of the content Morris found most objectionable.
After that string of setbacks, Morris has now voluntarily discontinued her suit – meaning that she's given up entirely on the litigation.
Thanks to Blog Law Blog reader Chris for sending me a note about this one.
The discontinuance is functionally a vindication for the defendants, who are blog proprietor-moderators William Hogg and Elizabeth Bishenden, contributor Richard Johnson, three anonymous commenters, and host WordPress.com.
It's hard to tell what all exactly the material was that Morris contended was defamatory. Her suit claimed that material on the Aurora Citizen subject her to "ridicule, hatred and contempt." But the what and why is not clear. A post from September 16, 2010 reprints a letter received from the town attorney demanding the removal of certain comments from the Aurora Citizen – a request the blog complied with, so we can't see exactly what those comments were, and they seem to be about a different town official. Another post suggests that some material posted over the course of August 24, 2010 through October 2, 2010 was the basis of a defamation allegation at some point. So I'm guessing this and this might have annoyed her. But I can't tell with any particularity what the offending language was.
Here's what the Aurora Citizen had to say:
It was manifestly unfair that the defendants were put to the time and expense of legal fees at the hands of Ms. Morris, most especially in light of the fact that Ms. Morris used tax dollars to pursue them in what appeared to be a politically motivated attack intended to silence their efforts to hold her government accountable.

It is equally telling that Ms. Morris discontinued the litigation when she was called upon to fund it out of her own pocket rather than use taxpayer funds as initially intended. She was fully prepared to use town resources to support her private lawsuit, at the towns' sole risk and expense to her sole potential gain, despite the fact that the Town's Code of Conduct states clearly that "public office is not to be used for personal gain".

While the defendants, Hogg and Johnson defended their principles with their own funds — Phyllis Morris did not.

Hopefully, there has been a lesson learned from this experience. Freedom of expression is a fundamental democratic right of all Canadians — but it is a right that will be attacked, and will need protection.
More:
Tags: Aurora Citizen, ontario