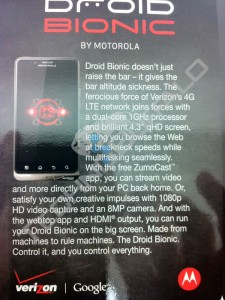 A leaked image published by TechnoBuffalo.
A state court in Illinois has ruled that gadget blog TechnoBuffalo is not covered by the Illinois shield law. Chris Healy of the Reporters Committee for Freedom of the Press reports on the decision.
In August of last year, TechnoBuffalo published photos of an instruction manual for a yet-to-hit-stores Motorola Droid smartphone. The photos came to the blog by way of an "anonymous tipster."
The Johns-Bryne Company, the printers hired to reproduce the material for Motorola, sued the blog to learn the identity of the leak, and the blog claimed the protection of Illinois's reporter's privilege law. The court, however, read the statute in a restrictive way, saying that TechnoBuffalo does not qualify as a "news medium" and its bloggers are not "reporters," thus making the law inapplicable.
TechnoBuffalo has asked the court to reconsider and has vowed to appeal.
Tags: illinois, Motorola, rcfp, TechnoBuffalo