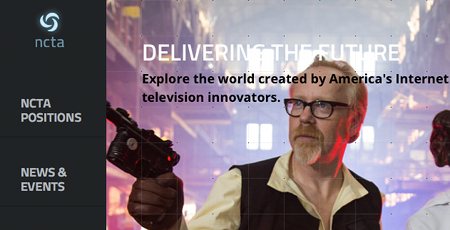 Kind of sad to see Adam Savage of Mythbusters as the face of the National Cable & Telecommunications Association – one of the key trade groups lobbying against net neutrality.
You'll never guess who the cable-telecommunications industry thought prevailed in Verizon v. FCC [pdf]. The "big winner," they said, was "the consumer."
It's interesting to see the double-talk the NCTA uses to argue that net neutrality is bad. (Or, as they would say, that "fair broadband pricing" is good.)
Allowing consumers to choose the best broadband plan to suit their needs promotes fairness, saves customers money and encourages adoption to a wider audience than more restrictive "universal" pricing plans. The continued expansion of broadband networks and usage-based tiers will provide consumers with significant benefits without asking that they subsidize the efforts of a select few.
See? Telecommunications companies aren't trying to hold the internet hostage to collect ransoms. They're helping consumers. Thanks for busting that myth for us.