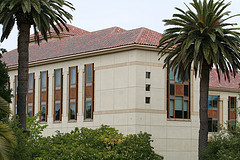 Stanford University Graduate School of Business (Photo: EEJ)
Attempting to extract advertising revenue from your blog introduces a myriad of potential legal problems. I've said before, I think it's not worth the hassle for the tiny bits of coin you might eek out. Now here comes an interesting paper form Monic Sun, Assistant Professor of Marketing at the Stanford Graduate School of Business, and Feng Zhu, Assistant Professor of Strategy, Management and Organization from the University of Southern California Marshall School of Business. The working paper, posted to SSRN, is Ad Revenue and Content Commercialization: Evidence from Blogs.
Investigating a new ad-revenue-sharing program introduced to a Chinese blogging platform, Sun and Zhu conclude that the availabilty of ad revenues increased the quality of participating bloggers' posts and caused an overall shift toward "popular" topics, including primarily the stock market, celebrities, and "salacious content."
What does that say about the desirability or perniciousness of blog ads? Good question. And here's another: To what extent might these results be affected by the repression of political speech in China? After all, political speech is a huge driver of blogging in the rest of the world.
Here's the abstract:
Many scholars argue that content providers, when incentivized by ad revenue, are more likely to tailor their content to attract "eyeballs," and as a result, popular content may be excessively supplied. We empirically test this prediction by taking advantage of the launch of an ad-revenue-sharing program initiated by a major Chinese portal site in September 2007. Participating bloggers allow the site to run ads on their blogs and receive 50% of the revenue generated by these ads. After analyzing 4.4 million blog posts, we find that, relative to nonparticipants, popular content increases by about 13 percentage points on participants' blogs after the program takes effect. This increase can be partially attributed to topics shifting toward three domains: the stock market, salacious content, and celebrities. We also find evidence that, relative to nonparticipants, participants' content quality increases after the program takes effect.