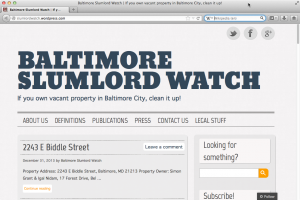 Blogger Carol Ott of Baltimore Slumlord Watch is being sued by two landlords on allegations that she hired graffiti artists to paint murals on abandoned properties.
Ott's website – tagline: "If you own vacant property in Baltimore City, clean it up!" – consists of posts with addresses of rotting buildings listed with their owners and contact information for those owners.
According to the Towson Patch, the trusts that own the moralized properties are seeking $2,500 in damages to cover the costs of re-painting. According to the Patch, Ott denies the claims, saying that she provided background information on properties but did not direct people to take action.

Al Jazeera, which has pictures of the murals, reports that Ott recently worked with Wall Hunters, a group of street artists who pasted QR codes to dilapidated buildings with links to landlord contact info.
The Atlantic Monthly recent profiled Ott's efforts to clean up Charm City's urban blight.
More: