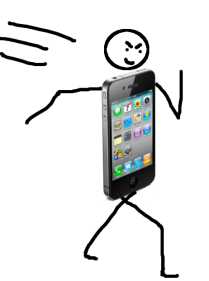 Photo: Apple. Deft artistic embellishments: Me.
Last year we followed the story of Apple's iPhone 4 prototype, which was lost in a Silicon Valley beer garden. It was a blog law story because Apple went in heavy against tech blogger Jason Chen, getting a multi-jurisdiction police task force to raid to his home and seize a bunch of his property. And this was after the guy who found the phone tried to return it to Apple and Apple refused to return his calls.
Now, it's happening again. This time an iPhone 5 prototype was dropped in Cava 22, a tequila bar in the Mission District of San Francisco.
As CNET, who broke the story, reports:
Apple electronically traced the phone to a two-floor, single-family home in San Francisco's Bernal Heights neighborhood, according to the source.

When San Francisco police and Apple's investigators visited the house, they spoke with a man in his twenties who acknowledged being at Cava 22 on the night the device went missing. But he denied knowing anything about the phone. The man gave police permission to search the house, and they found nothing, the source said. Before leaving the house, the Apple employees offered the man money for the phone no questions asked, the source said, adding that the man continued to deny he had knowledge of the phone.
I don't know what's more unbelievable, that Apple lost another iPhone, or that the San Francisco Police Department investigated a lost-property claim. When I lived in SF, a friend of mine got his car broken into and his radio stolen, and when he filled out his police report and asked the officer if they would be investigating it, they looked at him like he was crazy. I guess if you are Apple, you can get great customer service from the SFPD. That's kind of ironic since Apple itself is pretty deficient in the customer service area.
By the way, take it from a law professor, don't give the police permission to search your home. Arrgh.
Here are last year's posts about the Jason Chen / iPhone 4 mess: