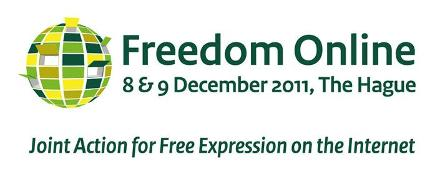 Earlier this month the Netherlands' Ministry of Foreign Affairs hosted a conference called Freedom Online: Joint Action for Free Expression on the Internet. The conference was attended by more than 20 countries and NGOs, including the United States, which sent Secretary of State Hilary Clinton.
One particular subject of discussion was the need to help bloggers in countries ruled by oppressive regimes. There's a good write up by Toby Sterling of the Associated Press: EU official: Protect bloggers from repressive governments.
Secretary Clinton, who opened the conference, issuing a call for companies to refuse to sell surveillance technologies to repressive governments. It's wonderful to see the U.S. take a leadership stance on internet freedom, but there's some irony as well.
Syrian blogger Amjad Baiazy, who was arrested and tortured earlier this year because of his online writing, noted that Western companies surveillance system that Syria's been using to ferret out internet dissidents.
And Dutch member of parliament Marietje Schaake, while dittoing Clinton's call for restraint among tech companies, took the U.S. to task for Congressional consideration of SOPA (the proposed Stop Online Piracy Act," which, she said, "give great incentives to governments like China to do the same," blocking access to expression they find inappropriate.
Important points, all around.