Posts Tagged 'gallo'
Thursday, September 23rd, 2010
Tags: eu, europarl, Europe, european parliament, gallo, gallo report, techdirt
Posted in Europe, freedom of expression, intellectual property, international, legislation and regulation, lobbying | Comments Off
Wednesday, September 22nd, 2010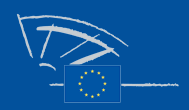 Today the European Parliament will vote on the Gallo Report [scribd], which recommends strengthening intellectual-property enforcement, including through "non-legislative" measures.
Prepared by French MEP Marielle Gallo, the report has been criticized as a vehicle for laundering lobbying points of the entertainment industry. Although ostensibly aimed at file sharing of movies and music, there is concern that its heavy-handedness could have a detrimental impact on the expressive activities of netizens, such as blogging.
There is also concern that the Gallo Report's adoption would be seen as a green light for aggressive measures being considered in connection with the Anti-Counterfeiting Trade Agreement, currently the subject of closed-door international negotiations. (EFF on ACTA.)
Reporters Without Borders has issued a statement opposing adoption of the Gallo Report.
Tags: acta, EFF, eu, europarl, Europe, european parliament, file sharing, gallo, gallo report
Posted in copyright, EFF, Europe, freedom of expression, intellectual property, international, legislation and regulation, lobbying | Comments Off