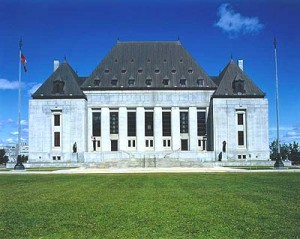 The Supreme Court of Canada courthouse in Ottawa. (Photo by Philippe Landreville, courtesy of the
SCC)
The Supreme Court of Canada has cleared bloggers from any feared liability for linking to defamatory content.
In Crookes v. Newton, a 6-3 decision held that a hyperlink to defamatory content does not make the linker a "publisher" of the defamatory content, which means that the linker cannot then be sued for defamation. Signaling agreement with the linked-to defamation doesn't expose the linker to defamation either. Linkers can only be liable for libel if they use the link in such a way that they, themselves, end up conveying a defamatory communication.
Paul Schabas and Jon Goheen on the Inforrm blog have written a good synopsis of the case. In their words:
According to the majority, virtually any text accompanying a hyperlink to defamatory material will not lead to liability unless the text itself is defamatory. Even where a party indicates an unequivocal and positive adoption of the libel, as in the example given by the trial judge, there will be no defamation.
Also, Media Law Prof Blog has posted a long excerpt of the decision.