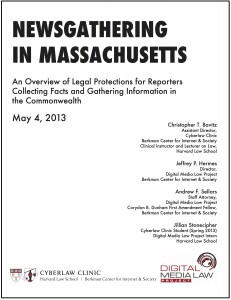 Harvard Law School's Digital Media Law Project and Cyberlaw Clinic have released a booklet called Newsgathering in Massachusetts, available as free-to-download pdf.
It's an information-packed reference tailor-made for citizen journalists, and it includes coverage of
open meeting laws, public records laws, laws regarding access to courts, and laws regarding protection of anonymous sources.
Massachusetts is an especially interesting state for this area of the law. The Boston-born case of Glik v. Cunniffe, discussed in the booklet, is one of the most important citizen-journalist cases to come down the turnpike in the digital era. In that case, a Simon Glik was arrested in Boston Common for filming the police making an arrest of a homeless man. With the help of the ACLU, he got the U.S. First Circuit Court of Appeals to recognize a First Amendment right to videotape in public places.
Kudos to DMLP and the Cyberlaw Clinic for putting this together.