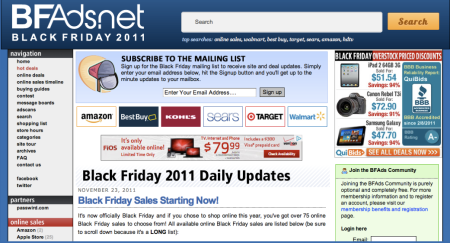 Happy Black Friday!
Last year I blogged about how Black Friday blog BFAds.net found itself on the receiving end of a legal threat from JCPenney for leaking the store's Black Friday deals before the ads were officially released.
I checked Chilling Effects just now, and I found no letters to BFAds.net this time around. And I also checked BFAds.net, and they are still blogging away about the deals. I also found scanned ad circulars, which were released before the newspapers hit the streets. (I don't recall seeing that last year, although they are probably not new.)
At any rate, I'm glad to see BFAds.net still in business, blogging freely.
Happy shopping everyone. And blog on!