The Washington Post has an excellent story pointing up the irresponsibility of the Academy of Motion Picture Arts & Science in posting the following tweet – "Genie, you're free" – that romanticizes the suicide of actor/comedian Robin Williams, who hanged himself on Monday.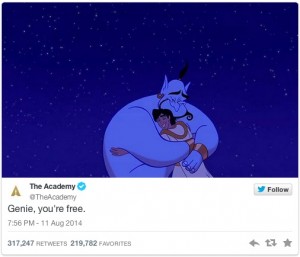 The story notes "[t]he starry sky from Disney's Aladdin, and the written implication that suicide is somehow a liberating option, presents suicide in too celebratory a light."
Indeed, it's pretty perplexing how AMPAS thought this was a good idea. The concern, of course, is that glorifying suicide may inspire copycat suicides. As NBC News reports, there was a significant increase in suicides among white women around Marilyn Monroe's age when she killed herself in 1962.
The American Foundation for Suicide Prevention has guidelines for responsible reporting and social media about suicide. The National Suicide Prevention Lifeline organization has social media guidelines as well.
They urge, when writing about suicide, to note that suicide usually has warning signs and to refer readers to helpful resources.
If you see someone on social media who is expressing thoughts of suicide, you can visit NSPL's page on how to help. There are even specific instructions for what to do if you see suicidal users on Twitter, Facebook, Tumblr, You Tube, and MySpace.
If you are having thoughts of suicide, please visit the National Suicide Prevention Lifeline website, or call 1-800-273-TALK.