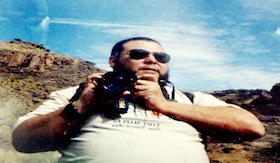 I'm tremendously excited to introduce Blog Law Blog's first contributor, John S. Merculief II.
John is a second-year student at the Texas Tech University School of Law, where I am currently a visiting professor. He put up his first post last week.
A veteran journalist, John worked in newspapers for over a decade, including a tour of Texas dailies in San Angelo, Abilene, and the Houston area. He got into reporting after getting a bachelor's in liberal arts from the University of Texas at Austin and a master's degree in newspaper journalism from the renowned program at Syracuse University.
As a journalist-turned-budding-lawyer, it's no surprise that John has a particular interest in media law. That will be extremely helpful for Blog Law Blog blogging. And as a bonus, he also happens to have an interest in municipal law. Regular readers know that that will definitely be a plus as we see more and more and moooooooooooore blog law scuffles involving local government officials.
Tomorrow, John returns with a post about what happens when you mix blogging, bad-mouthing, and bar-tending!