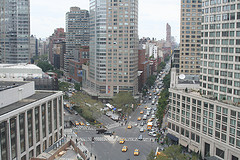 Eric P. Robinson at Blog Law Online has analyzed a flap over Josh Ozersky, a Time.com food reviewer who wrote about the food at his own wedding, created by prominent NYC chefs, but did not disclose that the menu items had been given to him as wedding gifts.
Reviewing the food at your own wedding? I thought that's what in-laws were for.
But there's a blog-law issue here. Robinson notes:
As an online columnist for a major, "mainstream" media organization, Ozersky's problem is primarily an ethical one between him and his employer, and between him and his readers, who may discount his praise of certain chefs or restaurants, based on his relationships with them.

But if Ozersky was a blogger, he may have faced penalties under the FTC's endorsement guidelines …

As I've noted before, the FTC rules explicitly state that ""bloggers may be subject to different disclosure requirements than reviewers in the traditional media."
A post that Robinson did last year about the FTC's different treatment for bloggers than for the mainstream media is here.
Ozersky's review of the food at his own wedding is here. The New York Times reports on the Ozersky affair here.
Note: Ozersky's wedding reception was held on the roof of the Empire Hotel. Nice. Above is a picture I took from the Empire Hotel rooftop a couple years ago when I stayed there. Funny story: When I checked in, they gave me a key, and I went to the room, opened the door, and there was a guy already in the room – apparently another Eric Johnson. That's why I like using my middle initial!