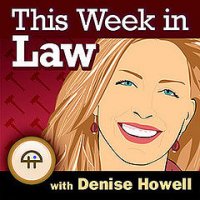 On Friday of this week I'm very excited to be back on This Week in Law with Denise Howell, a video netcast, which can be seen live on live.twit.tv at 11 a.m. Pacific, and will be available afterward as episode no. 92.
You can suggest topics for the upcoming episode on Facebook or tweet them on Twitter with hashtag #twil92.
I had a blast when I was on the show in November (episode no. 86). I was on with USC law prof Jack Lerner and lawyer co-host Evan Brown. We discussed telecom lobbying, the creepy xBox Kinect technology, and much more.